It's true! Blogging is not for everybody. Many people prefer to run a regular website because they can't find the time to continually update a blog. Others are not natural chatterboxes and find it difficult to come up with things to talk about.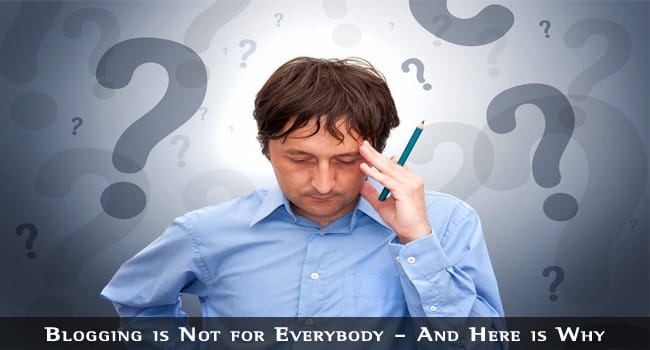 If you are not patient, prefer quick results to hard work or don't find it easy to make relationships and entertain people, then perhaps blogging is not for you – or perhaps it is! Let's have a look at why many people fail with their blogs, or don't even get off the starting blocks while others are very successful. Even some successful bloggers began with a false start because they were too quick, keen and eager to get going!
Blogging Is Not an Easy Way to Make Money
Did you ever see one of these adverts saying something along the lines of 'make a thousand bucks a day with this one simple trick'? Nope? Then where have you been the last 100 years!
I remember one old guy telling me he answered a newspaper ad back in the early 1960s about 'How to Get Rich Quick' and he paid $7 for a booklet that would give him all the information he needed plus the starting product to do it.
He sent off the 7 bucks (1960s remember!) expecting never to see it again, but yes, he did get the booklet in the post, bound in a cheap plastic folder and comprising all of about 10 pages. It explained how to copy this booklet, bind it in a cheap plastic folder, advertise it in the press and how to collect all the cash he would get for selling it! Selling it to mugs like him!
No, he didn't get mad, he just laughed at his own gullibility. Keep in mind that these were the days long before PCs or email. Even The Beatles were new! Press-dial telephones were all the rage – if you could get one!
Readers Make Blogs Successful
You can count yourself lucky if you make any money from blogging in your first 3-6 months. To make money you need readers. Internet marketers who make money from their websites often say that 'the money is in the list'. They create lists of names and email addresses using subscription forms and autoresponders. They can then send their list members regular information on their niche and relevant products.
Bloggers can do the same, but generally rely on regular readers. Good successful bloggers have no need of an email list (though it won't hurt) since they provide regular information with each post. If they have interesting facts about their niche, they post it. If they have a new product to sell, they post it! This involves a lot of research for new topics to post about and a lot of work in writing and publishing the post.
Blogging Is Hard Work
No, there is no easy money and no easy way to make money unless you are very lucky with your next horse! Blogging is just the same. One reason why blogging is not for everybody is that it is hard work, and not an easy way to make money. It takes time to build up a decent-sized readership, and even more time to keep them supplied with interesting information.
Consider your local library. Once you have read all the books in your specific niche or area of interest, you would expect to find new ones coming along. If not, you would leave and find another source of books on your topic. A blog is the same. You must regularly provide your readers with new material, and this takes time and work.
So the main reason why blogging is not for everybody is because not everybody is prepared to do the hard work to find topics to blog about. They want the easy way – they want to tell everybody just to copy them and they will make money. In fact, they don't make money themselves because they don't put the effort into it – and blogging is not just about cash!
Hobby Blogging Is No Different
When people use their blog simply tell people of their thoughts, to pursue a hobby with like-minded others or just to have fun, then blogging is a lot easier. They have no pressures on them to make money as professional bloggers do, and they can post when they have the time to. Anybody like this can be a blogger – for a short time!
That's because the commitment must still be there if they wish to retain interest. Even with hobby blogs, if they are not to lose all their readers they must still keep providing fresh content. That's what blogging is about – whether you are a professional trying to make money or a hobby blogger – it's not much different. If your readers keep seeing last week's post then they will not stay with you for long.
You Must Enjoy Creating Content
Not everybody enjoys creating their own content. That's another reason why not everybody enjoys blogging. Blogging involves LOTS OF CONTENT!! You may have to write a great deal of your time, or make videos or podcasts – but it takes up your time, and if you don't really enjoy doing that – REALLY ENJOY doing it! – well then, perhaps it's not for you.
If you write 3-5 posts each week and also become involved in regularly commenting on other blogs, which you will have to do if you want to be known within the blogging community, you can expect to write around 4,000+ words every week! Not just that, but find the material to write all these words about.
You must enjoy creating content to achieve that week after week, month after month, year after year. Plus, you must be creating content that other people will love – not just what you like. No, blogging is not for everybody, and that's another reason why. However, if you can do that, then it can be very rewarding.
How to Be a Successful Blogger
If you can make friends and relate to other people, then you will find it easier to become a successful blogger. However, even if you don't find that so easy, you can still provide people what they want if you know how to write. If you can help others to solve their problems, show them some support in what they are trying to do and mentor them, then blogging will be easier for you. Read our 9000+ words publication to know more about how to blog.
No – blogging is not for everybody, but everybody can blog if they put their mind to it. Accept that success is not immediate. Accept that blogging is not a quick road to riches. Accept that you might have to stay in to write that post rather than go out with your friends tonight. Accept all that, and you have taken the first step to being a successful blogger and meeting lots of like-minded friends online.