Prior to choosing Ghost or WordPress, or even carrying out a comparison between Ghost and WordPress, it is important to understand the thinking that led to the development of the Ghost blogging system. For the moment, it's not a simple matter of comparing like for like but of establishing which of the two best meets your needs.
They are not similar: it's almost the same as comparing a Winnebago with a camper van. One has all the bells and whistles, while the other does what it was designed to do: allow you write to the web.
What Is Ghost?
So what is Ghost? It is a blogging system rather than a full CMS (such as WordPress) that was devised by a former member of the WordPress User Interface (UI) team. John O'Nolan saw the need for a simple blogging system designed to enable users to write a blog and publish it to the web. WP was like this at one time, but has now developed into something much more complex, coming with many features most ordinary bloggers neither use nor need.
Ghost was the result, and was launched in 2013. It offers an online publishing platform enabling users to focus on their writing without worrying about plugins, categories, child themes and so on. However, this does not mean that there are no Ghost plugins or extensions for those that want to add a bit of variety to their blogging. These are available and we shall come to them later.
First let's have a look at the basics and compare them with WordPress.
Installing Ghost
Like WordPress, Ghost is open source software and is free to download from the Ghost website. When you get to the site you will be offered the opportunity to a) download the free software, and you are then on your own, b) take a free trial or c) pay for the hosted version.
Prior to choosing a hosted option, or installing the software yourself, you are advised to give it a free trial. Register for a free 14-day trial account from Ghost's homepage, and you have two weeks to test it for yourself without making any commitments. This is completely free, and you are not asked for payment details in advance.
Using the Ghost Blogging System
The free trial is easy to setup and use, and there are explanatory videos available to help you. Once installed, you will find a simple dashboard such as this:

'Content' provides you with a list of all your blog posts including unpublished ones. Simply click on 'New Post' to write a new post, and 'Settings' gives you a list of the settings you can control. Do not expect a WordPress style dashboard because that is not what Ghost is about – it's about offering a simple way for people to write on the web without too many bells and whistles to distract or confuse them.
To state it simply, if you want to introduce your granny or your young children to the wonders of blogging, then Ghost is better than WordPress. If you want a fully featured CMS that you can use to display your coding knowledge and artistic flair, then WordPress is for you – or even better, use Drupal if you are so advanced!
Ghost is the easier of the two to use for simple blogs, so let's assume that everything is set up and working as it should. What next? How does it shape up to WordPress?
Click on 'New Post' to start, and you will find an intuitive text editor. You write your post on the left, and view what it looks like on the right. This is one advantage over WordPress: you do not need to Preview – you see your work fully formatted in real time as you write it, thus: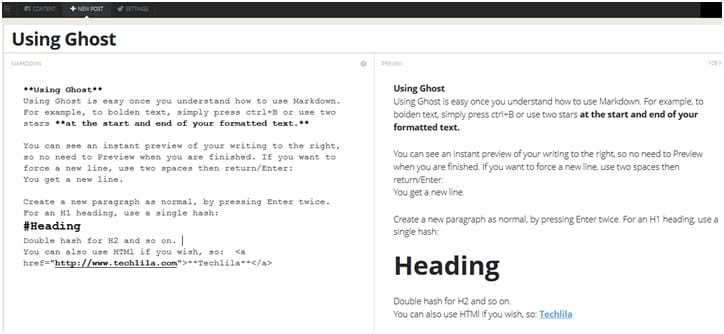 Ghost uses a formatting system known as Markdown. It is easy to learn, although you can also use HTML directly in the writing/editing frame. A guide to markdown is available on the editing page.
Writing Posts
You can use markdown within your text or plain old HTML to format your work as you wish. One advantage Ghost offers over WordPress is that you don't have to click to Preview your work: as explained above, you see a WYSIWYG version to the side as you type. The result of your markdown or HTML formatting is shown on the right as you type, so you can correct any errors as you make them.
You can save the post as a draft at any time. You can also save your posts as static pages if you wish. To do this, click the gear icon to the bottom right by the 'Save Draft' button, then click the checkbox to save as a static page.
Ghost Settings
Ghost 'Settings' are few and simple, unlike those of WordPress. They are:
Title: The title of your blog.
Description: A description of what your blog is about.
Blog Logo: You can upload a logo for your blog.
Logo Cover: You can upload a cover image for your blog.
Email: Your email address for admin notifications.
Posts per Page: You can set how many posts are displayed on each page.
Dated Permalinks: You click to add the date behind your permalinks.
Theme: How to change your blog theme.
That's it. There is no SEO or Google Meta data to worry about. Your blog can still be crawled and indexed by Google, and Ghost blogs can be ranked based upon their content. However, for now, they are not intended to be used for commercial purposes, so their listed position is largely irrelevant.
Ghost Themes and Marketplace
The Ghost Marketplace offers a good selection of paid and free themes. Here is a selection of free Ghost themes. There are many more on the Marketplace for you to select free of charge along with some excellent paid themes: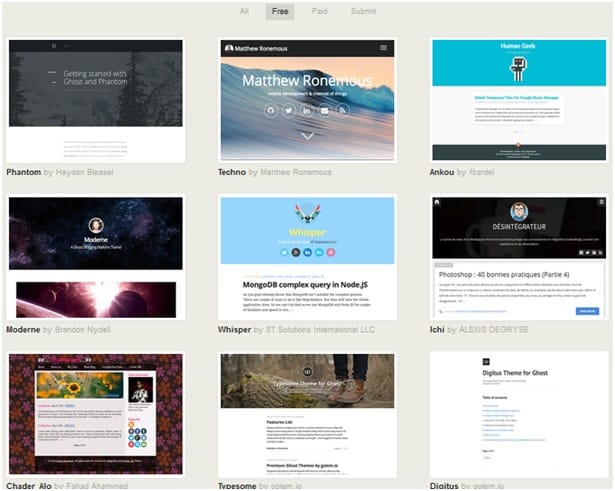 There is a good enough range of themes available for Ghost to enable you to find something to suit that topic of your blog. However, due to its greater popularity and age, WordPress wins hands down here as well.
You must also take into consideration the uses to which Ghost can currently be put: there is little call for the type of sales-oriented themes that are frequently used with WordPress. We are not comparing like with like here, although you will find the selection of Ghost themes available to be more extensive and better designed than you might have expected.
Plugins and Customization
There are no official plugins for Ghost yet, but you will find a few on the Ghost blog that have been devised by users. There is a WordPress plugin available to import your WordPress data into Ghost, and you will find others by searching on the Ghost blog.
It is possible to edit your themes if you have an understanding of HTML. You can add favicons and contact forms, and you can make alterations to the HTML of your theme to customize it to suit your needs. You can also add Google Analytics to the HTML of your theme. Instructions are provided for each of these modifications.
Comparison Between Ghost and WordPress
With WordPress, you can run a daily blog or create a static website, an online store or use it as the interface between yourself and your clients. Whether you run a hotel, operate a dental surgery or sell books – WordPress can do all of this for you and beats Ghost hands down.
If you want to record your recovery from a serious illness, set up a family blogging site that enables all your family to communicate with each other or simply write and publish chapters of a book you are writing, then WordPress can also do that, but Ghost is easier to use and takes up a lot less of your valuable web space than WordPress does. Ghost wins for simple personal blogs.
WordPress enables you to create a fully-featured static website or a blog. As explained earlier, Ghost was never intended to achieve this. It was developed to offer people a simple means of writing for the web without all the hassle of SEO, plugins, multiple platforms, themes and child themes, ways of categorizing posts and publishing and pinging them on multiple social sites.
In this respect, once you have it installed on your domain, Ghost performs perfectly. It outshines WordPress as a simple writing platform in the same way as the camper van is easier to maneuver and travel with than a Winnebago. If you want to impress, go with the Winnebago, but if you want something simple but functional then go with the camper van!
So which is best for you? Only you will know that! Perhaps you will develop from one to the other – but only if the other is what you need. Ghost will be better for many people due to its simplicity, but those who want an all-singing all-dancing blog with all the bells and whistles should stick to WordPress.
If you are one of those people who are finding WordPress a bit complicated, there is a plugin available to send all your existing posts over to Ghost, enabling you to run a simple blog. This, after all, is how the concept of blogging all started.
Best Way to Get Ghost
If you have tried the 14 day trial, and like the idea of using Ghost, then the simplest way is to choose one of the hosted options: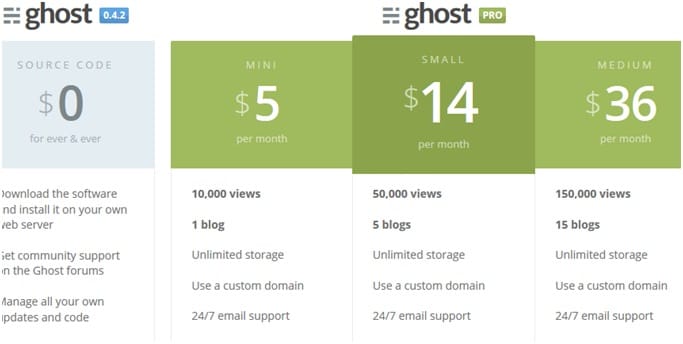 Hosting is by Bitnami Hosting. As you can see, you have three options according to your projected traffic. If you only want one blog, you are restricted to 10,000 views each month. This might not be an issue for anybody wanting simply to write down their thoughts or experiences for others to read, or start up a family blog, but it might offer problems to a serious blogger.
However, a serious blogger would likely be best with WordPress rather than use Ghost. The latter has not been designed for professional or commercial blogging – yet! If this traffic restriction is an issue, or if you don't want to pay for hosting, you can use Ghost on your regular web hosting service. Hosting services such as HostGator and Bluehost offer unlimited traffic.
If you intend running 5 blogs or more, then you would likely be better off with WordPress. Ghost might be too new for you to trust 5 or even 15 blogs too, although that is a personal observation. We suggest you begin with one and assess Ghost's performance. If you already have a WordPress blog, then why not run two in parallel and compare them yourself?
However, back to installation: here is the first disadvantage of Ghost. There is no one-click installation link on a control panel as there is for WordPress. This point of comparison falls on the side of WordPress, because there are no installation issues, particularly if your web hosting service offers one-click installation from a control panel such as cPanel.
It is important to understand that Ghost does not work with a shared hosting service. If you want to run Ghost on a web hosting service such as HostGator or Bluehost you will need a VPS account.
That is because Ghost works using Node.js, and not PHP. JS is not available on regular servers. You need VPS so you can load Node.js on your own server and then run Ghost. The extra cost of this could make it worthwhile choosing one of the hosted versions of Ghost above.
Ghost or WordPress: Conclusions
Ghost is easier to use than WordPress but lacks the flexibility of customization and plugins that integrate WordPress with many different other applications. However, Ghost is new and is still growing and developing. Plugins are planned for the near future, and many people are using the API to develop extensions that will eventually extend its functionality.
For now, however, Ghost is highly suitable for simple personal blogs, and those that do not want the complexities that have been developed in WordPress. Perhaps one of the major negatives is that Ghost is not compatible with shared hosting because it is not written in PHP.
You must either use it with a VPS or dedicated server, or pay for a new hosting service that offers it. However, $5/month is not a lot for a newbie to pay for a good blogging system that is sure to expand and improve. The choice is yours, but keep in mind that when we compare Ghost with WordPress, it is not a like vs. like comparison.