'Alas! This one's a carbon copy of my post!' A blogger might have spoken those out in shock when he noticed almost similar content on other blog, resembling the one that he had written earlier. Well, this isn't a sign of only worry but along with it indicates your content is that worth reading, forcing people to copy and paste it under their own name. However, every blogger and the content writers are curious to know whether their content has been stolen.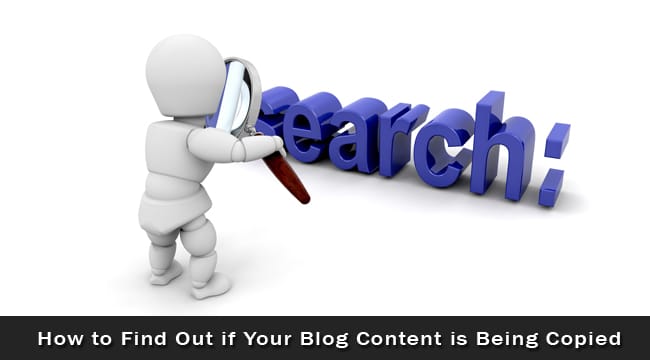 Below are some online tools you can use to check it out:
Begin with Google Authorship. As it is well-known, through Google Authorship, you can link content you publish on a specific domain to your Google+ profile. The name and image of the writer associated to the content will be displayed in Google's search index. As your image appears below your content title, it acts as evidence that you are the writer of that entity. This also indicates your control over your written material.
2. Google Alerts
With Google Alerts, what you have to do is, notify Google that you wish to place tabs on particular phrases. You will then receive email alerts when that particular unique phrase or keyword or the title of your blog, whatever you mention to Google, is published anywhere else in the web world. Just remember that the words, you keep the tab on, must be unique and thus its advised to consider a long phrase as it has its uniqueness with respect to its writer.
3. Copyscape
Copyscape is an online plagiarism detection service that detects if the entire or even the part of your post has been stolen. Along with free version, it is also available in a premium version that verifies the originality of content purchased by online content publishers. It also possesses some additional benefits. Provided the URL or text of the original body, Copyscape displays a list of web pages with similar text mentioned. To warn the plagiarists to stop the copying of content, Copyscape banners can be placed on their web page.
4. CopyGator
CopyGator is a free tool designed in order to audit your RSS feed so that the location of copied material can be found out. It displays on the overview page when two blog spots are found to resemble each other along with the details whether only some elements are alike or the entire post itself!
5. Grammarly
Grammarly is a proofreading service and grammar checker, but it will also check your text against plagiarism. Its proofreading and plagiarism-detection capabilities check for a writer's adherence to more than 250 grammar rules. It carries out more than 250 grammar checks; it proofreads and detects plagiarism in the process and finally provides users with a list of possible errors for correction.
6. Plagiarisma
The limitation of this tool is of 5000 characters and a maximum of 5 searches per day without registering with Plagiarisma. However, the restriction of 5 searches per day can be swamped by registering. Although it is a free tool, there is also a premium option available which removes off the 5000 character limit. It provides Plagiarism Software for Windows for free download via its website. You can work out through this by either typing the particular URL or pasting the text into a text box or by simply loading an HTML, DOC or PDF file of the particular content you want to check out the copies of.
7. Plagium
Through Plagium, you can check an entire URL to know if your content has been plagiarized. What you have to do is to just paste up to 25,000 characters in a search box provided by the tool and then, a free check process for duplicate post begins. Additionally, it allows you to perform a deep search by applying grammar and word usage rules to break the content's paragraphs up into blocks of text which are then searched over the World Wide Web to provide an accurate paragraph-by-paragraph analysis of the text. The restriction of the characters can be taken off by switching to the premium choice which requires credits.
8. 33Across
33Across helps to recognize the copy-paste activity on your site. Although not a plagiarism checker, it is definitely a beneficial one as it is free in giving the count of a number of times of the copy-paste activity of your content. This is done by inserting a provided code onto your blog. It adds a link back to your site the moment your post has been copied and pasted somewhere else on the web. Some of the tools available via 33Across are Copy-paste activity, keyword search, content sharing, the impact of social networks and inbound/outbound search terms.
9. WordPress SEO by Yoast
Using this WordPress plugin will let you add certain code to your RSS feed. An automatic link gets inserted connecting back to your site whenever your content has been republished somewhere else. Some blogs use scraper software to automatically republish content from around the Web. Not much valuable, but if your blog is one among the URLs added to the scraper script, then you will receive a link back at least.
10. Duplichecker
Duplichecker is a plagiarism checker with a maximum limit of 1000 words per search with only 3 searches per day. It analyzes sentences entered into a text box and checks for the plagiarized content. The restriction of 3 searches per day can be removed by registering and turning it into the premium.
Above were several combating techniques against plagiarism. However, these days, Creative Commons licenses are gaining more popularity. Through this, people may notice that copying your content for generous purposes would not make a difference to you. Morally, they will tend to respect your right over that post. Stay persistent in protecting your write-up and get started today itself. More of such tools and techniques shared by you readers will be appreciated. Always remember the World Wide Web is getting Wild World Web out there.
For the protection, you can check out the WhoIsHostingThis.com site to find out the owner of the website that has stolen your blog body. Once you get to know, you can send a request to the company to either shut down the website or erase off the copied content.