Blogging can be great fun and can also be a chore. Many people who enjoy blogging make the decision to become a professional blogger. They rely on their skills to make a living or at least supplement their income. It is then that they may discover some of the negative aspects of blogging and that a fun part time activity can be quite different when carried out full time.
It need not be like that if you have the right mindset and approach to your blogging. Here are some of the pros and cons of blogging to help you decide whether or not full time or professional blogging is worth it. We shall begin with the negatives before discussing some of the pros of blogging professionally. It is often possible to turn negatives into positives with the right attitude.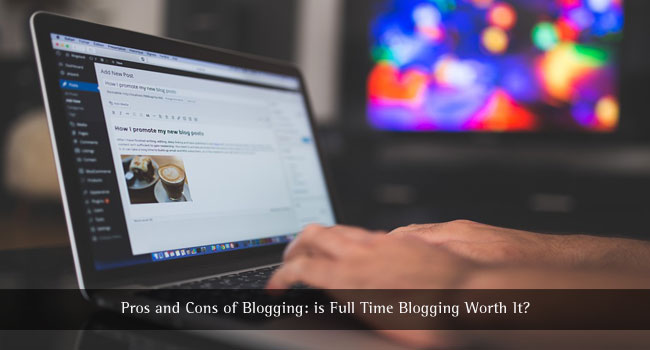 The Cons of Blogging
A) Loneliness
If you have been used to the hustle bustle of working in an office and miss the water cooler chat, then professional blogging can be very lonely – at least at first. Eventually, you will make friends online, but this is no substitute for regular face-to-face contact. You should go out with your friends and family and have a good social life.
It is easy to become a recluse in your own home office, and never see the light of day. It is equally important to find out what people are talking about. Sure, internet chatter can help you stay fairly well informed, but nothing can substitute a good personal discussion. It is an important aspect of professional blogging.
B) Routine
You should try to get into a good routine, with a proper mix of working hours and social time. This will go a long way to helping solve the loneliness aspect of working alone. This does not mean you must work 9-5 or whatever because one of the advantages of working for yourself is that you can work flextime!
However, set yourself a routine and try to stick to it. One of the major disadvantages of working at home for a professional blogger is that it is too easy to take time off. Before you know it, you will be spending more time away from work than in your home office. It is important to regard your work as a real job; otherwise, your earning capacity will plummet like a lemming!
C) Plan for Illness
You should plan for illness if you give up the day job and blog professionally. People who work for themselves get no sick pay. It is not easy to blog while you are ill, and sometimes it will be physically impossible for you to type or even open your laptop. Voice recognition software can help you keep blogging if you have a broken arm or other injury preventing you from typing.
Another solution could be to put together some generic posts that can be published at any time. A post about how to monetize a website or blog is one idea, another being the methods available to stay current with Google algorithm updates. You don't have to mention any specific updates, simply provide information on official Google and SEO blog sites and forums. You can then post these when you are too ill to write.
D) Finding Material
Another disadvantage of professional blogging is that you must continually find fresh content. Once your blog has become popular, you must work hard for it to stay that way. Each post must be fresh and interesting. It can be hard work maintaining freshness day in day out, week after week. Make a list of good resources, blogs, forums and RSS feeds that can help you find new information on your niche. Forums are a good source of problems, and you can often use them to find common issues that people need to be addressed and problems they want to be solved. Try to be proactive, and be the first to offer solutions to questions people are asking about the problems they are facing.
The Pros of Blogging Professionally
Professional blogging can be very satisfying, and there are also some social benefits of working for yourself. As explained earlier, so long as you make sure you are working sufficient hours each day, you have the freedom to take time off when you need it.
If an emergency crops up, you have the time to deal with it. If there is a sports event you cannot miss, you won't miss it! You can take the day off and work in the evening, and you will no longer come home late because you had urgent work to do for the boss.
Here are some professional aspects of full-time blogging that make it worthwhile.
Professional Benefits of Blogging
When you blog full time, you become significantly more proficient in just about everything connected with it. Your typing speed and accuracy improve, your research abilities improve, your standard of writing and grammar improves and your knowledge of the internet and online information sources grows considerably.
In short, you become a better blogger. This should not be surprising, since the more time you spend on something the better you become at it. You become better known in the blogging community, and your visitors will regard you as an expert in your niche. You also have more time to spend on establishing the best ways to generate traffic and monetize your blog.
This means that you should attract increasing numbers of people to your blog which statistically implies that you get more affiliate sales and more Adsense and CPA clicks. You need visitors to make money and a full time blogger is more able to attract more readers than a hobby blogger.
Personal Pros of Full Time Blogging
Many of the benefits you receive personally by working full time on your blog have been mentioned above: the freedom of time management and ability to take time off when you need it. However, there are others.
Professional blogging can be very satisfying, and there are also some social benefits of working for yourself. So long as you make sure you are working sufficient hours each day, you have the freedom to take time off when you need it. You can take your family out for lunch, which may have been impossible before, or visit places outside of weekends when prices might be higher.
The knowledge that many people depend on you for knowledge in their own fields of interest gives you the confidence that only an expert can have. You can be the go-to person or blog for anybody with a problem, and as a full-time blogger, you will have the time to deserve that accolade. You have more time to research and study your topic.
SEE ALSO: Blogging Full Time Vs. Part Time
Pros and Cons of Blogging: Summary
Blogging full time requires commitment. If you are able to provide that commitment, then you have an excellent chance of being successful. You will learn a great deal when you first start, although it takes time to make money. Once you have built a good following, and perhaps a large mailing list, then you will find it fun to write posts and make a living doing so.
You do not need your own products to sell, since affiliate marketing. CPA programs and Adsense together can earn you an excellent income. Do not be discouraged with low results at the start, because that is normal. If you regard professional blogging as a full-time job and budget your time accordingly, then you have as good a chance of success as anybody else.