Many people use sites like Craigslist to buy/sell used items, like electronics, furniture, and almost everything that can be sold. It also includes job vacancies, service providers, and rentals.
So, exploring your options is a good thing whether you want to buy or sell something. With hundreds of websites popping up every day, we've curated a list of 30+ sites like craigslist where you can buy or sell stuff.
Craigslist Alternatives

Main Categories

Service Area

Pricing

Editor's Review

> Clothing and Accessories
> Electronics
> Housing
> Vehicles
> Classifieds

Worldwide

Free

9.6

> Automobiles
> Real estate
> Jobs and services
> Baby items
> Electronics

Worldwide

Free

9.5

> Electronics & Media
> Home & Garden
> Clothing, Shoes, & Accessories
> Vehicles
> Pet Supplies
> Collectibles & Art

Major cities across the US.

Free

9.3

> Services
> Personals
> Pet adoptions
> Cars
> Furniture
> Real estate

Worldwide

Free

9.3

> Phones
> Laptops
> Computers
> Tablets
> Video Games
> Cameras

Worldwide

Paid

9.1

> Furniture
> Vehicles
> Clothes & Accessories
> Electronics

US, UK,
Germany,
Italy,
Belgium,
Japan,
Korea, Spain,
Portugal,
Kuwait.

Free

9.0

> Cars & Vehicles
> Pets
> Rentals
> Real estate
> Furniture

US only

Free

8.9

> Real estate
> Vehicles
> Heavy equipment
> Services
> Merchandise

Major cities like Chicago, L.A.

Free

8.7

> Art
> Pet animals
> Real Estate
> Vehicles

Worldwide

Free

8.5

> Cars & Vehicles
> Property
> Jobs
> Services
> Pet adoptions

UK only

Free

8.4
Top 30+ Craigslist Alternatives to Buy/Sell Stuff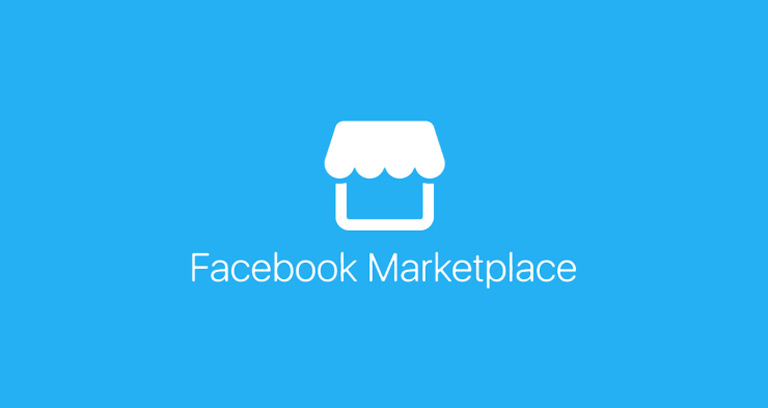 Whether using social media platforms or not, you might not know that Facebook has its own marketplace where users buy or sell stuff. You can narrow your search result by ZIP code, neighborhood, or city within a mile radius, giving you a competitive edge over other classified site.
Features
Easy to create item listings.
Set custom bids for items.
Message sellers/buyers to arrange transactions.
Browse items for sale by location and category.
Preview transactions in the "Your items" section.
Editor's Review Facebook Marketplace is an excellent alternative to Craigslist as it helps you find the right customer or distributor near your area. Since almost everybody uses Facebook, your item will get more exposure, and it's easy to create new listings compared to websites like craigslist.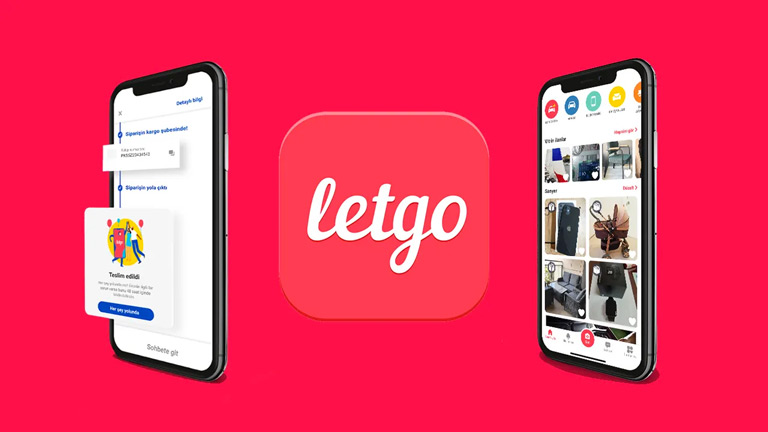 Another popular craigslist alternative is LetGo, which follows an image-based format to help buyers find what they need faster. It has different search filters, allowing you to search by price range, time since listing, distance, and category. Once registered, you can communicate with buyers or sellers without disclosing your email address or phone number.
Features
Robust search features.
Easy to create listings.
Promote or boost product listings.
Chat instantly with buyers and sellers.
Editor's Review Not only does it allow you to sell or buy just about anything, but it also has a separate section for all items. It's best for buying or selling appliances, collectibles, old furniture, and clothes. You can find products using a specific keyword.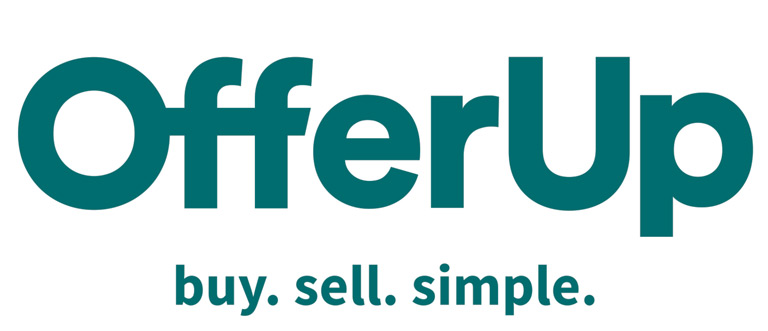 Compared to other Craigslist alternatives, Offerup deals on limited items. The website has become more popular because of its diverse product listings, allowing users to find what they want. Not just that, sellers can show their listings on Facebook as well. 
Features
Buyers and sellers rating system to reduce scams.
Buyer can also make their own offer.
Watchlist feature to save listings for later.
Editor's Review Offerup is a secure and safe site similar to craigslist, as sellers and visitors can also promote their listings on Facebook. Both sellers and buyers receive ratings to make the process feel more safe and secure.

Oodle uses a different approach to help you sell or buy stuff locally. Unlike other classified websites, some listings on Oodle are directly posted, while others are picked from Craigslist alternatives to diversify their listings.
Features
Sellers can advertise listings through Facebook.
Deals in various categories, like services, personals, pets, cars, and more.
Users have to connect their Facebook accounts to avoid spam.
Editor's Review Oodle is a perfect marketplace for selling or buying vehicles, furniture, real estate, and pets. You may also find collectible items, event tickets, office space, and more. However, users can only access this website through a web browser.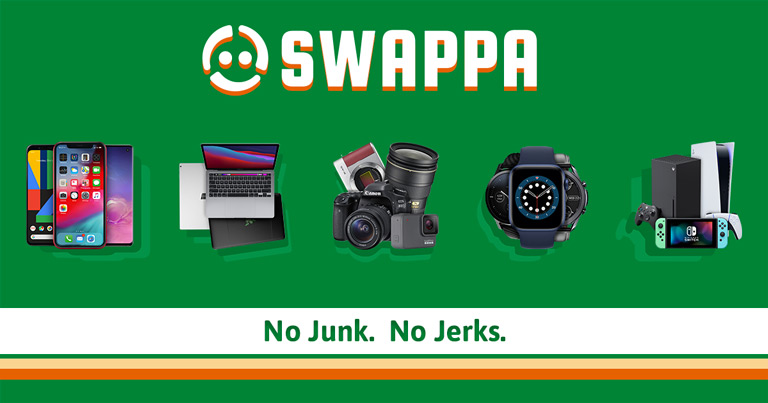 If you're free classified sites like Craigslist that deals in electronics and technology, Swappa is your go-to website. It allows users to purchase and advertise a wide range of tech and electronic items, such as tablets, laptops, consoles, cameras, smartphones, and more.
Features
Free to create product listings.
Deals in tech and electronic items.
Charges a meager fee to assist in selling products.
Editor's Review Swappa is a one-stop shop for all gadget geeks. However, buyers have to pay a premium before purchasing a product. The premium is refundable in case the buyer is unsatisfied with the purchase or receives the wrong item.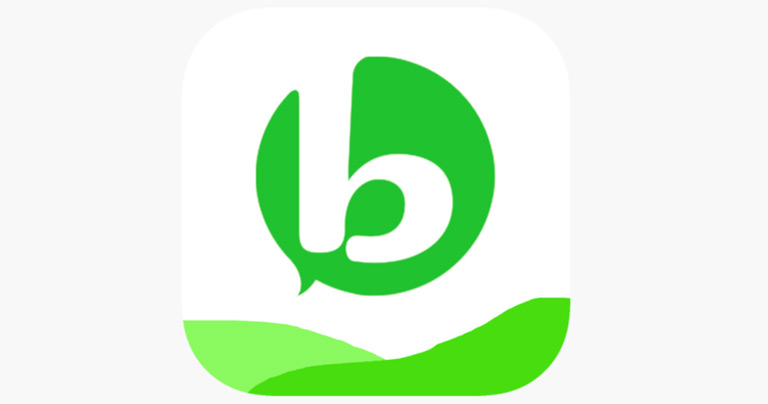 With over 25 million registered users, Bookoo has become the best alternative for sites like Craigslist. It has many features that make it easier to sell and buy stuff online. You can list your items to advertise or sell for your next garage sale.
Features
Family-friendly interface to navigate easily.
It comes with live chat support
Most listings are from military families.
Editor's Review Most Bookoo warehouses are located near army bases as they intend to assist military families in selling and buying stuff while they move from one country to another. Above all, payments are handled via the app, which makes it convenient and secure for both buyer and seller.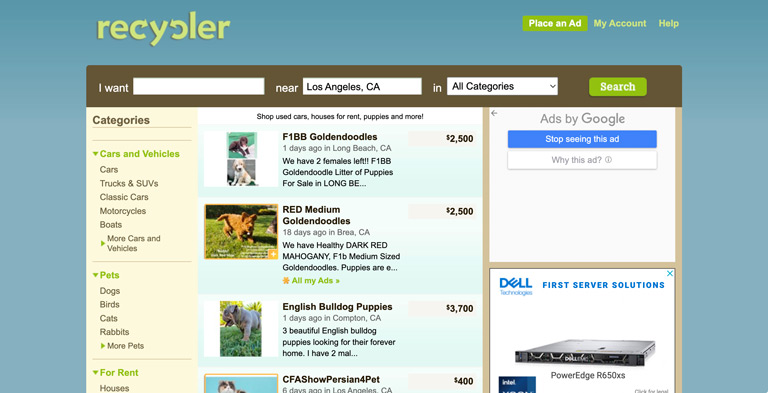 Recycler started as a local classified site for a small newspaper, which later expanded into one of the largest classified websites in the US. In 2010, Recycler became the biggest rival of Craigslist, especially in the US. With over 20 million active users, Recycler helps people sell real estate, pets, cars, and even old furniture.
Features
Share your listings on Facebook and Twitter.
Offers paid ads to get more exposure.
Image-based platform
Editor's Review Unlike other sites similar to craigslist, Recycler quickly posts your listings on Twitter and Facebook. You can also use ads to boost your listings and target specific markets or buyers.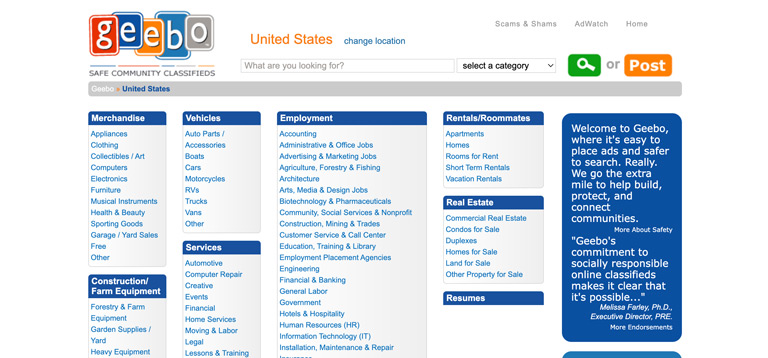 Geebo enables you to sell or buy real estate, vehicles, heavy equipment, merchandise, and services in over 160 communities. If you're living in major cities like Chicago, L.A, London, etc., you should try Geebo. Sellers and buyers can message via the site and arrange in-person meetings in the local police department to ensure SafeTrade transactions.
Features
Ensure a safe trade between sellers and buyers.
Caters to every niche market
Include a chat feature.
Multiple search filters to narrow your results.
Editor's Review Geebo offers a versatile marketplace, including yard sales, roommate searches, farm equipment, furniture, clothes, and more. The best thing is the company has introduced more filters to reduce fake advertisements.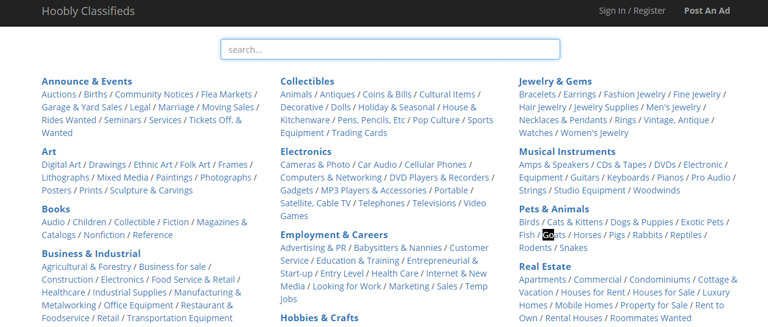 Hoobly is one of the biggest free classified sites like Craigslist, with hundreds of product niches to choose from. You'll find everything from vehicles to real estate and art to pet animals listed locally.
Features
The majority of listings are for pet adoption.
Huge user base.
Advanced search filters.
Editor's Review Although the site does not offer more details about the seller, it still continues to attract users from around the world. Unlike other sites like craigslist, you may not find any extra features to filter your search results and find the best post ad for your needs.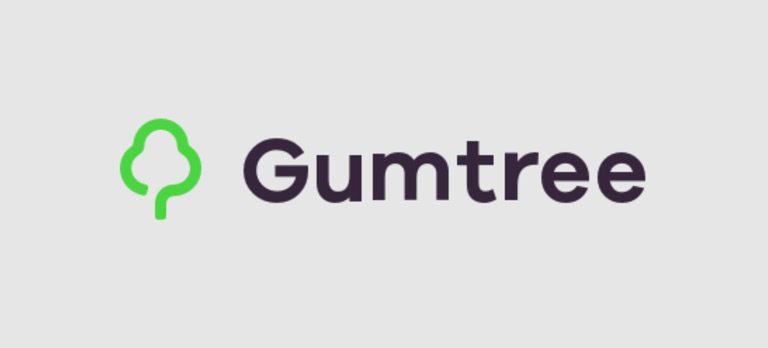 Gumtree is specially designed for the folks living in the UK. So, if you're living in the UK, you can list and sell any item you want via Gumtree classified site. They have also developed mobile apps for Android and iOS devices to help users post and find whatever they want in one place.
Features
Designed for the UK market.
Massive user base.
Strict screening procedure to filter fraudulent ads.
Mainly used for job postings and searches.
Editor's Review Gumtree is among the most visited websites in the United States. That means users can list used items and get more exposure compared to other sites like craigslist. It's also best for finding jobs or posting job requirements.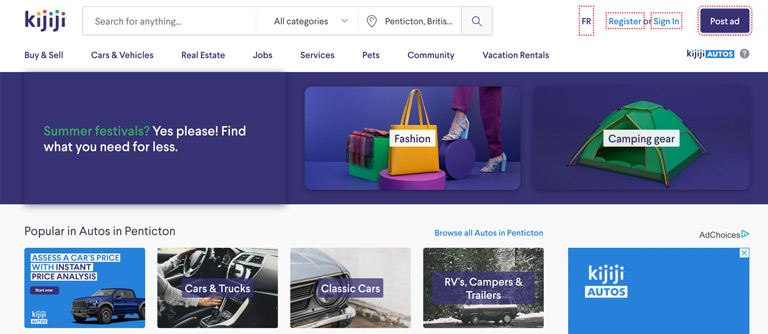 If you're looking to buy or sell something in Canada, Kijiji is your go-to website. With 8+ categories, you can find or sell nearly anything on Kijiji, ranging from cars & vehicles, pets, services, and real estate to jobs and rentals.
Features
Designed for users living in Canada.
Deals in 8+ categories.
Free classified site for selling used stuff.
Advanced tools for promoting ads.
Editor's Review To ensure safety, Kijiji asks you to follow strict rules. It also has a mobile payment feature, which offers a better and more secure way to complete the transaction between buyers and sellers.
10 Day Ads is designed on a simple concept. Instead of letting you run your ad as long as you want for free, they limit the ad duration to ten days. That means the ad will be removed after ten days of listing your product. This way, the website will ensure new and active listings.
Features
Ad duration is up to ten days.
Uses anti-spam technology to avoid scams.
Allows you to create video ads.
Editor's Review 10 Day Ads has a fantastic search bar that lets you find interesting items listed locally. Thanks to its anti-spam technology, this classified site ensures to deliver a safe & secure buying and selling experience.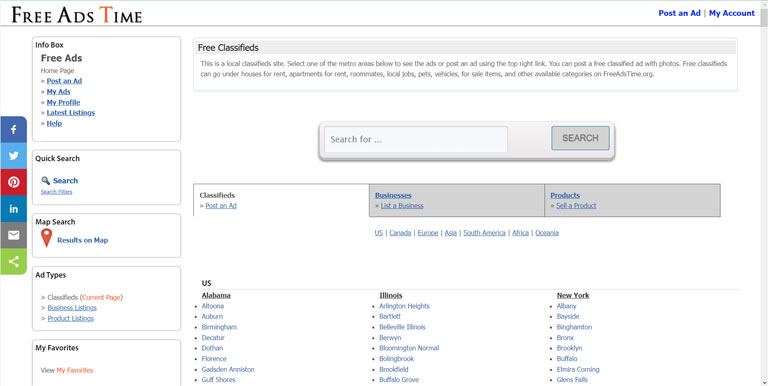 FreeAdsTime is similar to Craigslist as it's designed for selling and buying items, automobiles, real estate, and job searches. Now, it's available in many countries worldwide, and millions of people use it daily to buy and sell stuff.
Features
Free to list and browse any item.
Easy to create and post new ads.
Advanced tools to track your ad performance.
Editor's Review FreeAdsTime is among the most popular and trusted free classified sites like craigslist. Besides providing a massive marketplace to advertise your product, they also share valuable tips and hacks through their blogs.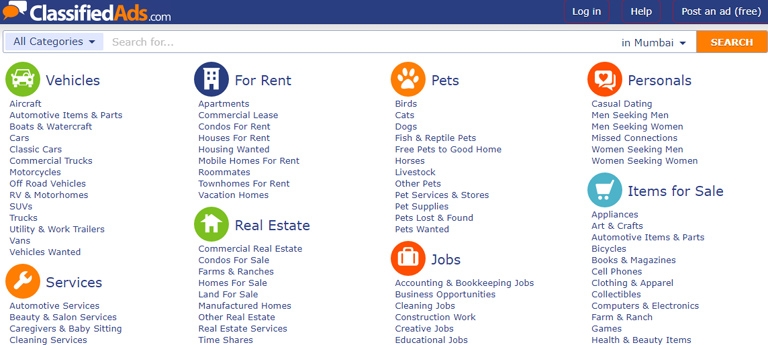 ClassifiedAds is one of the best Craigslist alternative sites with similar functionality. This online classified site is 100% free to use and provides multiple offers on almost anything that could be available for sale.
Features
Clean and sleek website layout.
Most offers are available in big cities and metro areas.
Free to register and post your ads.
Editor's Review ClassifiedAds is available across the world, but you're likely to generate your sales in metro areas and big cities. A bigger market will get your ad more exposure and generate interest in potential buyers.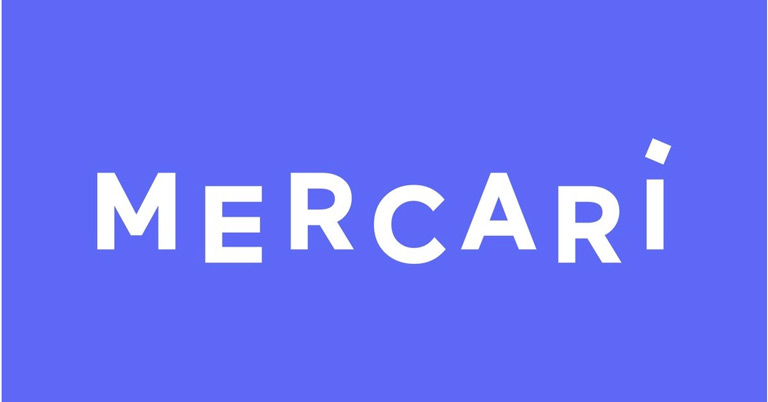 Another excellent selling app is Mercari, as you can sell just about anything without meeting buyers in person. While listing your products on Mercari is free, you've to pay a 10% fee on every item sold.
Features
It uses a rating system to improve the overall experience.
Lists shippable items only
Editor's Review Mercari can be a great option if you want to ship your product worldwide. Remember that they will charge a 10% flat fee on every item you sell via Mercari.

Poshmark is among the popular app-based marketplace sites like Craigslist, but mostly for fashion: handbags, accessories, jewelry, shoes, and clothes. You can use the app to create your listings and make money online selling items from your closet. 
Features
Deals on fashion items.
Easy to create listings.
Editor's Review Poshmark deals in limited categories like handbags, clothes, accessories, jewelry, and shoes, so if you want to buy or sell fashion items, this is where you go. It also charges a markup fee of 20% on sales above $15 and $2.95 for deals under $15.
Frequently Asked Questions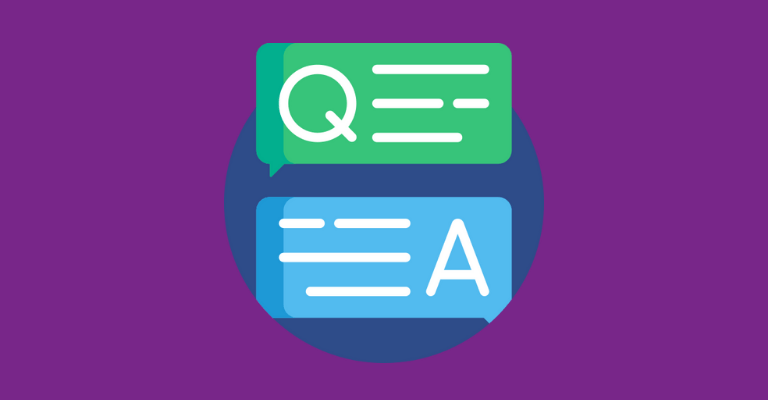 Do People Still Use Craigslist?
Absolutely. You can explore your nearby areas on Craigslist and find jobs, used cars, furniture, and even rentals. However, there are tons of Craigslist alternatives out there. This means it was not the only shopping powerhouse when it first started in 1995.
Is Craigslist Free?
All postings on Craigslist are free, except for the followings:
> All for sales by the distributor in the United States—$3-5.
> Job postings in CA (only selected areas) and the US—$10-75 (charges may vary)
> Commercial real estate in the United States—$5.
> Apartment rentals in NYC, Chicago, and Boston areas—$5. 
The Bottom Line
If you're looking for free classified sites like craigslist where you can sell or buy stuff, we've prepared a list of 30+ trusted craigslist alternatives you can try to find whatever you're looking for.
Facebook Marketplace
LetGo
Swappa
Offerup
Oodle
Bookoo
Recycler
Geebo
Hoobly
Gumtree
Kijiji
10 Day Ads
FreeAdsTime
ClassifiedAds
Mercari
Poshmark
Locanto 
eBay 
Adlandpro 
Classifieds USA Today 
AdPost 
Trovit 
PennySaver USA 
Nextdoor 
Gsalr 
EstateSales.org 
5 Miles 
Yesbackpage 
Adsglobe 
CityNews 
There you have it—30+ Craigslist alternatives for buying or selling stuff. We've covered the most trusted platforms out there. If we did miss out on mentioning any reliable craigslist alternative, feel free to share it in the comments below!