This Bluehost review will focus on the more important aspects of web hosting. There are many web hosting services available, and it can be difficult to choose the service most appropriate for your needs. Each has its strengths and weaknesses, and no individual hosting service stands out above all others. Here is the result of our evaluation of the Bluehost web hosting service.
Bluehost has offered web hosting since 1996, so is not exactly a new kid on the block – it has a proven history, which makes it easy to review and comment upon. It hosts over 2 million domains, or websites, and is one of the top hosting services worldwide. Here are the salient features of this service.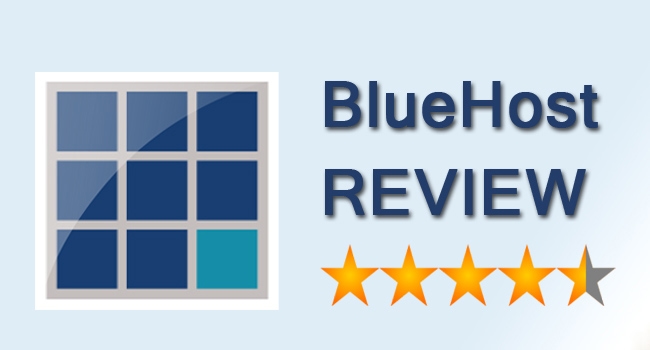 Bluehost Review: Web Hosting Plans
Bluehost offers a shared web hosting plan, but also more advanced options if you are seeking a more professional form of hosting. There are four levels of VPS hosting (virtual private server), three levels of dedicated web hosting, where you have a dedicated server rather than sharing, and three levels of reseller hosting, where you can run your own web hosting business using Bluehost.
With VPS hosting, a server is cut into small portions and each client has one part of the server for their own use. It is not share with anyone else. This increases the speed significantly with less chance of downtime. With dedicated web hosting, you have an entire server to yourself. This can accommodate much larger websites with massively increased processing speed and improved security.
VPS, dedicated and reseller web hosting is intended more for professionals than those simply seeking their own personal website or a platform for a blog or online home business. We shall be focusing this Bluehost review on the popular shared hosting service which is generally used by people with ordinary websites with or without a blog such as WordPress.
Bluehost Web Hosting Prices
To many people, the price is a very important aspect of a hosting service. There are many 'offers' provided on hosting websites that are designed to attract potential clients. Bluehost is one of these. The website gives a special offer of $3.49/month (rather than the regular $7.99) which looks great. However, you may or may not notice the little star beside the price.
Like most other web hosting services, Bluehost prices are not what they may seem. The $3.49 offer is for 36 months payment in advance, but to be fair it is only $125.64 for 3 years.
If you do not want to pay in advance, the price is $11.99/month (you need to arrange a special link for this.) These do not include tax, and in the EU you have to add 20% VAT onto these prices.
These prices are reasonable for the type of hosting involved. Keep in mind that we are discussing the type of web hosting suitable for small businesses, internet marketing, hobbies and blogging. There are lower cost hosting services available, but you must compare the prices with the quality of the service and its reputation.
You can choose your own domain name, and get it free for the first year, and a $14.00 renewal price thereafter. If you want a second domain name, Bluehost charges $11.99. If you can get it below that price then do so, then point it to your Bluehost DNS.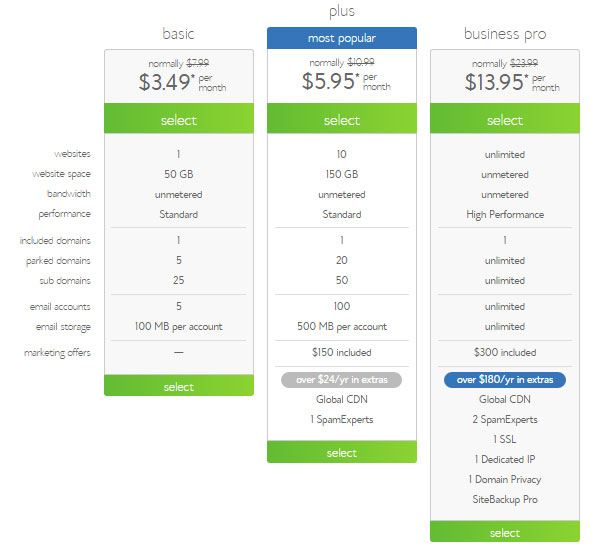 In this Bluehost review we should also mention that the company offers a 'Pro' version of regular hosting at $13.95/month. For this, you get a free domain for the life of your account, free domain privacy, a dedicated IP and an SSL certificate.
Bluehost Review: Control Panel Interface
It is important for any web hosting service to provide a good interface between the user and the services and tools offered. Along with many other web hosting services, Bluehost uses cPanel, the world's most popular website control panel. It is graphical, and very easy to use to manage a website hosted account. It is used by most of the popular web hosting services where a customized interface is required.
Using cPanel, you can access unlimited email accounts, you can edit your websites (again unlimited) using the HTML and text editors provided, can set up large numbers of databases, and can install third-party software such as WordPress at the simple click of a button. The cPanel interface also offers traffic analysis software and a great deal more. It is easy to build your regular website using the tools available with cPanel, and just as easy to connect it to a WordPress blog.
Bluehost Support Services
As with any review, this Bluehost review takes support services very serious. The level and quality of support is extremely important. If you have a problem, then you don't want to wait days to have it resolved. This could be critical to your business, so the support options available are a very important aspect of any web hosting service. The level of support offered by Bluehost cannot be faulted, at least in terms of our own experience.
Bluehost support services include 24/7 toll-free (within USA) telephone support, a postal address, an email ticket-based support system and Live Chat. We tested email and Live Chat, asking legitimate questions for real reasons (not just for testing) at 1000 Eastern Time. Response to the emails arrived 28 hours later. Over three Live Chat sessions, the longest response time was 2.35 minutes. Chat agents were very professional, and a rating system was available.
Reliability and Uptime
While the company offers no uptime guarantee as they once did, research carried out during the preparation of this Bluehost review found an average of over 99.9% over all sources checked. Although downages must, and do, take place, they are limited in their extent and the staff is very quick to get you restarted.
Any hosting service that claims 0% downtime is being less than honest. No service is perfect, and downages must occur – even if they are not the fault of the service itself. In saying that, many users reported serious downtime in February of 2013. This was due to a power surge to the servers, and Bluehost could perhaps have been more explicit in explaining the reasons why.
However, other than this specific instance, Bluehost has no more downtime in general than any other service. The company was quick in informing its customers of the reason for the February outage, and there has been no recurrence.
During the research into this Bluehost review we paid particular attention to the back-up capability of the servers. The data center contains up-to-date quad processor servers, a back-up power generator and mirrored storage backups. All of this is monitored by humans 24/7.
Bluehost Review: Conclusions
Bluehost is a modern, reliable hosting service suitable for both small and large businesses. It is also good for hobby and marketing blogs and, other than the occasional blip, has a good record for reliability. When compared to similar cPanel-based web hosting services, Bluehost ranks alongside Hostgator as being one of the more popular services available.
Pricing seems to be based on pre-payment options, ranging from 12 to 36 months payment in advance, while straight monthly payments are charged at a premium. However, if you get the online offer price and can afford the prepayment, it is a good idea to pay only $1258.64 and then have nothing to bother about for 3 whole years.
A guarantee is provided, and if you are dissatisfied with the service at any time, you can leave and have the balance of your prepayment returned. You still pay for the time used, but if you quit after 6 months of a 36 month contract, for example, you get 30 months returned – less the actual cost to Bluehost of the domain name for which you were not charged.
The service has millions of users worldwide, which is a good reference in itself. However, you may wish to compare this Bluehost review with our reviews of alternative web hosting services on this blog before making your mind up.