This DreamHost review discusses the strengths and weaknesses of DreamHost as a web hosting service for personal and small business users. Once we begin to review a web hosting company in terms of professional and corporate use, other large dedicated hosting options come into play. Firms such as DreamHost, that offer perfectly good hosting options for personal use, may also be able to compete against other dedicated servers, although that is not the target audience for this review.
DreamHost was established in California in 1997, and now hosts over half a million domains with a full-time staff of around 50 looking after your needs. The service uses the Debian GNU/Linux distribution of the Linux kernel. What this means is that DreamHost is based on the Linux – Debian GU, being a free distribution of the Linux Unix-like operating system.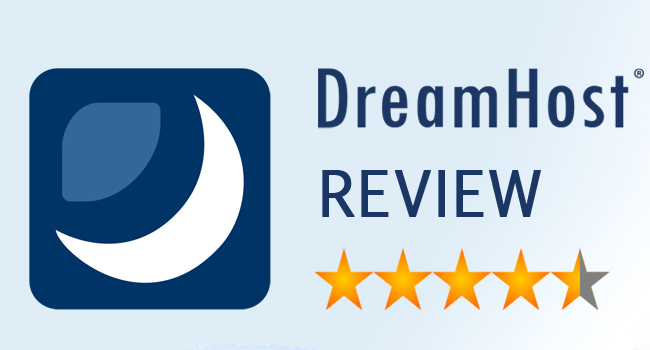 DreamHost Review: Web Hosting Services
DreamHost offers shared, VPS and dedicated web hosting. Here is a brief explanation of each of these. Most people using a hosting service share a server with several other users. This is the most economical type of hosting, where the costs of the server and its maintenance are shared. This is perfectly acceptable for the majority of users: individuals with their own websites and small internet businesses.
VPS hosting: Virtual Private Servers
With shared hosting, each user competes for resources such as the CPU and RAM. This slows down the response time, though not by an amount significant to such users. If you run a large website with thousands of pages or large numbers of visitors, then VPS might suit you better.
Virtual Private Servers each have their own specific partition on the server. If there is a spike in general demand, this will affect shared hosting clients, but not those with VPS because their piece of server is for them only. VPS plans start at $15/month for a small site needing only 300 MB RAM, rising to $200 for a larger site with 4000 MB RAM.
The jury is out on whether or not 300MB RAM is sufficient. OK is you just run one domain without using cPanel and have only one WordPress installation, but probably too low if you want more. Most people tend to believe that 700MB should be a minimum for VPS: you get 600 MB for $30 and 1,000 MB RAM for $50/month.
Dedicated Web Hosting
If you have particularly high levels of traffic and/or your application requires intensive use of the CPU, dedicated web hosting offers you your own server. Naturally, this is more expensive and DreamHost dedicated web hosting starts at $99 for a year in advance, or $109 monthly. We shall not be discussing dedicated web hosting in this review. We will focus on the general shared web hosting service used by most people with small online businesses and one or two blogs.
Shared hosting is by far the most common type of web hosting. The vast majority of people use shared hosting for their blogs and websites. DreamHost is currently offering a 1-year trial offer at $2.95/month (=one payment of $35.40), though the regular price starts at $8.95/month with add-ons at extra cost. For that price you must pay 2 years in advance, or $214.80. If you pay only one year it is $119.40, equivalent to $9.95/month. So let's discuss what you get for this.
Standard Features
DreamHost does not use cPanel, but instead has designed its own control panel. Many who are used to using the comprehensive cPanel might find this a drawback, although if this is your first website it will give you all you need to get started. Here are the main features:
Domains
Your first domain registration is free. You get custom DNS and you can run unlimited domains and subdomains. This means you can operate an unlimited number of websites from the one hosting account.
Emails
Unlimited email addresses – with spam filtering in the form of Spam assassin included. You can state addresses for each of your departments or individual users with separate logins and passwords for each. Each address also comes with autoresponders, so you can reply automatically to each email you receive.
Programming
You get full support for Perl, Python and PHP5, with access to crontab, CGI and Ruby On Rails. You don't lose out on programming tools by not having cPanel. You also have one-click installation of WordPress, Pligg, Moodle, Joomla and Advanced Poll among others. You can run multiple installations as separate domains/websites or as subdomains.
Security
Security is good, and DreamHost runs an enhanced security system. You can enhance that with SSL secure server and an anonymous FTP server if you have paid the extra $3.95/month for a unique IP address. You can pay for an SSL certificate as explained later.
Support
Unless you pay $9.95/month for Premium Support, you only get email support – with a promise to try to respond within 24 hours. This is the one drawback in the entire package. Unless DreamHost is very confident (they do promise 100% uptime) and don't expect support to be needed for anything but spurious inquiries, this is very poor.
DreamHost Upgrades
While this DreamHost review is focusing primarily on the basic personal web hosting plan, you should still be made aware of the enhancements available to your plan. One has already been stated: the extra $3.95/month for your unique IP address. There are other enhancements, some of which you may find useful:
SSL Certificate
Before you can apply for an SSL Secure Certificate you will need a unique IP. The certificate itself is priced at $15/annum unless you already have one, in which case it can be used on your DreamHost site. If you need the unique IP, then the total annual cost would be $62.40.
Additional Domains
You can register additional domains for $9.95 per annum upwards, depending on the TDL (.com or .net, etc.)
Premium Support entitles you to 3 telephone callbacks per month and unlimited live chat. The price for this is $9.95/month. Otherwise, you are left with the standard support which is by ticketed email only – with a promise to try to get back to you within 24 hours. This is one big disadvantage of this web hosting service. You must pay for decent support, which most others offer as part of the hosting plan.
Other Aspects of DreamHost Web Hosting
So far, the jury is out on this hosting company. It has a good service to offer, although support is not the best. Maybe few DreamHost users require support, but it should not cost extra to get a decent service when the need arises. Saying that, you get a generous 97 day money-back guarantee. However, even here there is a proviso.
If you are dissatisfied with the service, you can get all your money back up to 97 days – if you paid using a credit card! If you paid via any other way, one assumes that you get nothing back. This might be negotiable, although that is what the website says. It also says that after 97 days, you still get a refund of the unused portion of your prepayment.
The company guarantees 100% uptime – meaning 0% downtime. For each 1 hour of downtime (or fraction) you will get 1 day free hosting credited to your next invoice, up to a maximum of 10%. So your maximum refund is $21.48 for 10 hours or more downtime.
DreamPress WordPress Hosting
DreamHost also offers a dedicated WordPress hosting service known as DreamPress. For $24.95 per site, you will get your WordPress site installed and set up for you. This is a managed VPS hosting package that is optimized using any theme and plugins you choose. Your site will have high scalability and enhanced security, and you'll get 24/7 support via live chat, telephone and email.
If you have a website and want to run WordPress as a site itself or as a supporting blog, this is ideal for you. Particularly so if you have little knowledge of WordPress blogs and programming. This is how to make the best use of your domain, and meet the needs of Google better than if you ran only a single website with no blog.
DreamHost Review: Summary
It is difficult to come to a conclusion regarding DreamHost web hosting. It appears to offer all you should need for a high quality website, and DreamHost seems an excellent option if you intend running a WP blog. Its control panel is unique, although it does provide most of what you will need to run a website and blog.
It enables you to manage everything your sales and billing to the popular scripting languages mentioned earlier. You can set Cron jobs for scripts that run at regular set intervals, and you have full SSH and Telnet shell access. There is also a web-based FTP client for file transfers between websites and, between your site and your PC.
However, where DreamHost falls down is in the provision of web page design and creation. You must generate your individual web pages offsite using software such as Dreamweaver or FrontPage. This can be confusing for newbies to internet marketing operating a regular website, although WordPress uses should not find it a problem.
The conclusion of this DreamHost review is that it is a good web hosting service for those with some experience. A cPanel system might be better for newcomers to web design and operation. If all you are looking for a web hosting system for your WordPress blog, then DreamPress is an excellent choice. It is worthwhile taking advantage of DreamHost's $2.95/month trial offer and deciding for yourself.