This review of HostGator is aimed at those either starting their first website or blog, or those wishing to switch from their existing hosting service.
This web hosting service has forced itself up among the top in the world due to its range of options, ease of transferring from other hosting services and relatively low prices. It offers very attractive packages to those entering internet marketing for the first time.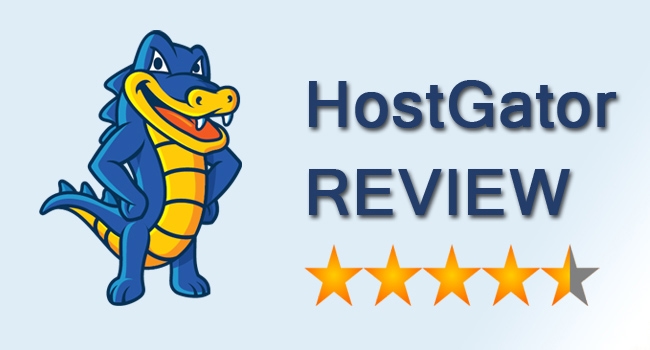 Review of HostGator Web Hosting Plans
HostGator offers three levels of web hosting, five levels of reseller hosting, nine levels of VPS hosting and four levels for each of Linux and Windows dedicating servers. It is the web hosting we are concerned with here, the others being aimed more toward large businesses and professional internet firms, including those reselling web hosting services.
All three hosting services provide unlimited storage space and bandwidth with a 99.9% uptime guarantee. The hatchling service permits only one domain – your main domain name and no more. The other two offer unlimited domains that you can operate as distinctly different websites with their own URLs.
The difference between the Baby and Business services are that with the latter you also get a free toll-free number, free dedicated IP address, and free dedicated SSL security. For those that require only one website, the Hatchling program is all that is needed. For those that would prefer the option to run more than one website then the Baby program will meet their needs. The difference between these is less than $2.50/month.
SEE ALSO: Web Hosting Services, Find the Best Web Hosting.
HostGator Review: Pricing
When you first see the advertised prices for HostGator web hosting service, they look very good. However, when you look closer you will see that they refer to prices charged for 3-year advance payments. When this review was written, the popular baby plan starts at $6.36/month for a 3-year payment, but actually costs $7.96 if you pay monthly. To be fair, the company does state 'From' when offering prices. You then get a drop down menu of prices over 3, 2 and 1 year, 6-monthly and monthly payments.
Uptime
This review of HostGator cannot fault the reliability of the service. Reliability is excellent, and few users have complained about the speed of the service and its uptime. Nevertheless, downages do occur although they are rare. If you have problems in this respect, the support team is generally very good in getting you online again. Most users will go a lifetime without losing connection, but just like most other web hosting services, it can and does happen.
Ease of Use
HostGator is very easy to use and utilizes the CPanel control panel. This offers just about everything you could want for your website, ranging from unlimited email accounts so each person or department in your business can have their own email address and login. Fantastico Deluxe enables almost one click installation of software such as WordPress, Drupal, Joomla, message boards, polls and shopping carts.
You also get site building software, HTML editors, SEO tools and traffic analysis software – all included in the price. You may find less expensive web hosting services, but few that offer the same range of services as HostGator.
Transfer from Other Services
If you are moving to HostGator from another service, HostGator makes the process very easy. This is usually fairly difficult to achieve, but you get free support to help you transfer your domain and files including your MySQL databases and scripts.
Most people who switch from other web services to HostGator comment on how easy it is to achieve. Until you have tried to do this between other such services, you will not understand how much of a benefit this is.
Support Services
HostGator support is available 24/7 and they will help you set up your first website quickly and easily. However, although normally excellent, this service is not always helpful. Some users, and other HostGator reviews, have reported that if you have a serious problem with the company's services, the support staff can be reluctant to refer you to somebody more senior.
Whether this is company policy, or a reluctance to admit they cannot help you is not clear. Some people have commented on this, although then again, most have expressed complete satisfaction with the response to any support ticket they have raised.
The majority of users of the service have had no complaints, and these are in the vast minority of HostGator web hosting service users. Things generally tend to run smoothly and most people never have to use the support system. What is slightly annoying is that you cannot access support directly with your HostGator login. You must do it through the Billing Account, which involves a different login.
In saying that, if you are completely dissatisfied with the service, you have a 45 day money back guarantee. Simply inform the company that you are dissatisfied with your service, and your payment will be reimbursed quibble free.
HostGator Coupons
We publish all coupons and the latest offers in the coupons section. Check out: the latest HostGator coupon and save your money.
HostGator Web Hosting: Conclusion
The HostGator web hosting service is ideal for any individual starting their first website, or organizations that already have multiple domains and wish to switch hosting services. The prices are good and the service and support usually more than adequate. There have been individual complaints regarding the standard of service, but no more than with any other service at this high level.
If this is your first website, and you are unsure of how you want your online business to expand, or how many different blogs you want, then the Baby program is best for you. That enables you to run an unlimited number of websites from your account. Keep in mind that your storage and bandwidth ae unlimited, as are the number of domain names you can run from your account.
The range of free tools is awesome, and the services are excellent. HostGator web hosting did not achieve over 5 million hosted sites through being inefficient! It allows ordinary people to become entrepreneurs without first having to become internet and web experts.
Check out the service for yourself by visiting the HostGator website. There you will find the whole range of options and services available to you.